Resources
Sample Day Drip Itineraries
Our new Sample Day Trip Itineraries give you a variety of ways to explore Todd County!   Depending on the type of trip you desire, click on the links below to print out the sample itinerary that also includes a helpful map to guide you on your way.  We think you will probably find a few other places to stop, too!
The Amish Experience – Spend a day in Todd County experiencing the Amish/Mennonite tradition. You will find a humbled and industrious people that produce all types of goods – abundant in both quantity and quality.
Historic Todd County – From notable homes to historic places, Todd County's history is fascinating. Come spend a day touring Todd County and its many historic treasures.  You'll be glad you did!
Lets Go Country – Todd County features two very distinct geographical regions: the high country in the north and the low country in the south. The northern highlands consist of steep-sloped sandstone terrain with forests of oak, walnut and poplar. The landscape contains steep bluffs and sharp rises and falls within the terrain. The southern lowlands consist of rolling limestone flatlands void of aquifer sinks and consist of dense, but sparse forests of oak, walnut poplar and ash. Much of southern Todd County is considered among the most productive farmland in the state. So, spend a relaxing day in "the country" taking in the scenery and enjoying some of what Todd County has to offer!
Shop 'til You Drop – Todd County offers a number of unique shopping destinations…just take your pick. So why not spend a day in Elkton, Guthrie, Trenton and points in between, shopping until you heart's content!  Click the links below to view the Day Trip, Addendum with more detail and the City Maps to help guide your way.
Journey to Trenton – "A typically southern atmosphere prevails here with gracious people, pretty homes and well kept lawns. There is an abundance of civic pride that helps enhance the beauty of the town." Martha R. Ware.  Nearly 200 years old, Trenton is the quintessential small town. With fewer than 500 residents, Trenton is boosted by the surrounding rural landscape, which is some of the most productive farmland in the state. Main Street is reminiscent of days gone by, with quaint storefronts suggestive of the town's history. This farming community has most of the essentials: a post office, bank, café; even a doctor's office. But, it also boasts a few unique treasures that make a trip – from wherever you might be – worthwhile. Come spend a day in Trenton . . . you won't regret it!
 Request a Map and/or Brochure to be Mailed to You
Submit a Request Information Form and we will mail you a Todd County map and/or a Explore Todd County brochure.
Places to Visit
Elkton, Kentucky
A warm welcome awaits you in Elkton and Todd County, Kentucky!  Elkton, the county seat, is the "heart of Todd County," as it lies in the center of the county along Highway 68/80 and Highway 181 only an hour away from Nashville, TN and Bowling Green, KY.  Elkton's Historic Commercial District on Public Square boasts 20 properties listed on the National Register of Historic Places, including the Historic Todd County Courthouse, the oldest courthouse in Kentucky still in active use, and the home of the Todd County Welcome Center.  Visit elktonky.com.
Guthrie, Kentucky
Guthrie derives its name from John James Guthrie, president of the L&N Railroad system. The L&N Railroad created a major switch-track in Guthrie and it soon became a boomtown of commerce featuring hotels, saloons and elaborate homes.  Guthrie's history also traces back to the Native Americans making the journey west on the Trail of Tears and is the birthplace of Robert Penn Warren, who became the first poet laureate of the United States of America.  Visit guthrieky.com.
Download or View the Experience Guthrie Brochure
Trenton, Kentucky
Trenton is a small, quaint community of about 420 residents and only a few minutes from Clarksville, TN.  Trenton is home of the popular "Heart of Trenton Main Street Festival" the fourth Saturday in June every year.  Visit Trenton Facebook Page.
Jefferson Davis State Historic Site

The Jefferson Davis State Historic Site is located on the western border of Todd County in Fairview, KY and is only minutes from Elkton and Hopkinsville, KY in Christian County.  The site of the monument marks the birthplace of famous Kentuckian, Jefferson Davis, who was born on this site on June 3, 1808.  The 351-foot tall concrete obelisk features an elevator that rises to an observation room and a picturesque view of the countryside. There is also a visitor's center with exhibits detailing Davis' life and offers Kentucky handcrafts, souvenirs, books and Civil War memorabilia.   Visit the Jefferson Davis Historic Site Website.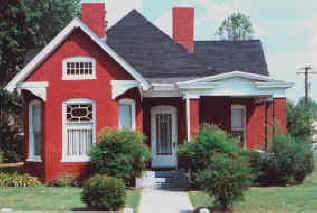 Robert Penn Warren Birthplace Museum
Guthrie is the birthplace of the first Poet Laureate of the United States, Robert Penn Warren.  The house museum is open to visitors and contains items involved with Warren's life. For sale are books both by Warren and about Warren.
Milliken Memorial Community House

Erected in 1928 in Elkton, the Milliken Memorial Community House is the first privately donated community house in America. The 13,000-square-foot mansion was commissioned by Mary Louise Milliken (1873-1936) and her husband Samuel Canning Childs (?-1934) in 1926.  The House is available to view by appointment and for rent for public use by calling Elkton City Hall at 270-265-9877.  Visit Community House Facebook Page.
Other Area Information
The Todd County Community Alliance is also a member of Kentucky's Western Waterland Region.  Follow their link for more information about the Region.  From their site you can find more information and other places to visit in beautiful Western Kentucky!
The Todd County Central High School Alumni Association was established in May 2013 with a goal of celebrating the high school's 50th year of establishment.  Visit their website for more information.